A VERY WARM, UNDERFLOOR HEATED
WELCOME TO CURVE GARDEN ROOMS LTD
We are a small company, passionate about what we do: every single project is delivered through close consultation with the client, from conception to conclusion. Our efficiency, rigour, and skill means that we provide the highest specification for the best value.
Curve builds beautiful, highly specified, bespoke garden rooms. They are not 'super sheds' or 'cabins', but fully finished home-like rooms ready for use. Each lovingly and expertly finished building incorporates a unique curved fibreglass insulated roof design, adding great style and originality. Our rooms can be used all year round, thanks to the installation of underfloor heating, an uncommon feature, making your space practical and cosy. The design is always sympathetic to your outdoor environment: for example; skylights, bespoke doors, and unusual windows, can be used to maximise light and garden views.
Curve garden rooms can be made to suit almost any purpose, thanks to each room being designed and made just for you: whether it's a smart studio, a cosy office, a calm space, a gym, a den, or even a personal social club with a bar. We are proud that our expert knowledge, flexibility, and creativity mean that we can build exactly what you want.
At Curve we pay great attention to details and finish: our rooms are crafted using the best materials. They are fully insulated (40mm floor, 80mm walls and roof) to benefit from the programmable underfloor heating, have full customisable electrics and home internet connection with WiFi, 14mm engineered real hardwood flooring, 24mm double glazed windows and doors, fully finished interiors (painted or wallpapered), and western red cedar cladding. All features are customised to your needs ensuring the finished structure is of the highest standard, to your taste, and providing extremely good value for money.
Your finished room will offer you outstanding additional space in your garden: a really usable, unique, and beautiful room, 'a room of one's own'. You can find out more about Curve by clicking on the tabs above.
"I love working in my garden room: a beautifully secluded, cosy and fabulously light space for me to feel creative in, even in the winter months. It's full of character and peace and allows me to feel part of the garden. It's my own very private space and now I can't work anywhere else!"
Susie
"Garry listened to what initial ideas we had, then went and designed the perfect room to maximise the space available. He worked tirelessly and diligently to achieve a fabulously finished retreat. The end result is way more than what we could have dreamt of. We love it. It's like being on a permanent holiday."
Andrea and Steve
"Garry and his team couldn't have tried harder to deliver exactly what we wanted. The result is outstanding and we are delighted with it"
Paul, Kathy and Millie
"Garry was brilliant. He took on board everything that I spoke about and came up with 2 amazing designs. Garry and his team were fantastic, they worked extremely hard to produce one of the best looking and unique bespoke garden rooms I've ever seen."
Paul and Hannah
Garry has been a pleasure to work with. From first contacting him to completion of the project he has been responsive, creative and reliable. We are delighted with the end product, which has turned out just as we had hoped and looks great!
"Garry was a pleasure to work with from the moment he visited me to discuss a bespoke room to suit my garden and individual needs. He came back with a wonderful design and he and his team worked extremely hard at all times to complete the design to the highest finish. Attention to detail was superb and the quality of the build beyond expectations. Garry was professional at all times and I can't recommend him and his company highly enough, thank you!"
Katrina Cochrane
"We are so pleased with the Garden room that Garry designed, and built for us with his own unique curve design. We had 100% confidence in Garry from the moment we met him and he didn't let us down.
Everyone who has seen it has complemented on how good it looks, especially liking the curve, and also the quality of the finish. Everything has been done to a very high standard and specification and is certainly built to last."
Mike and Nicola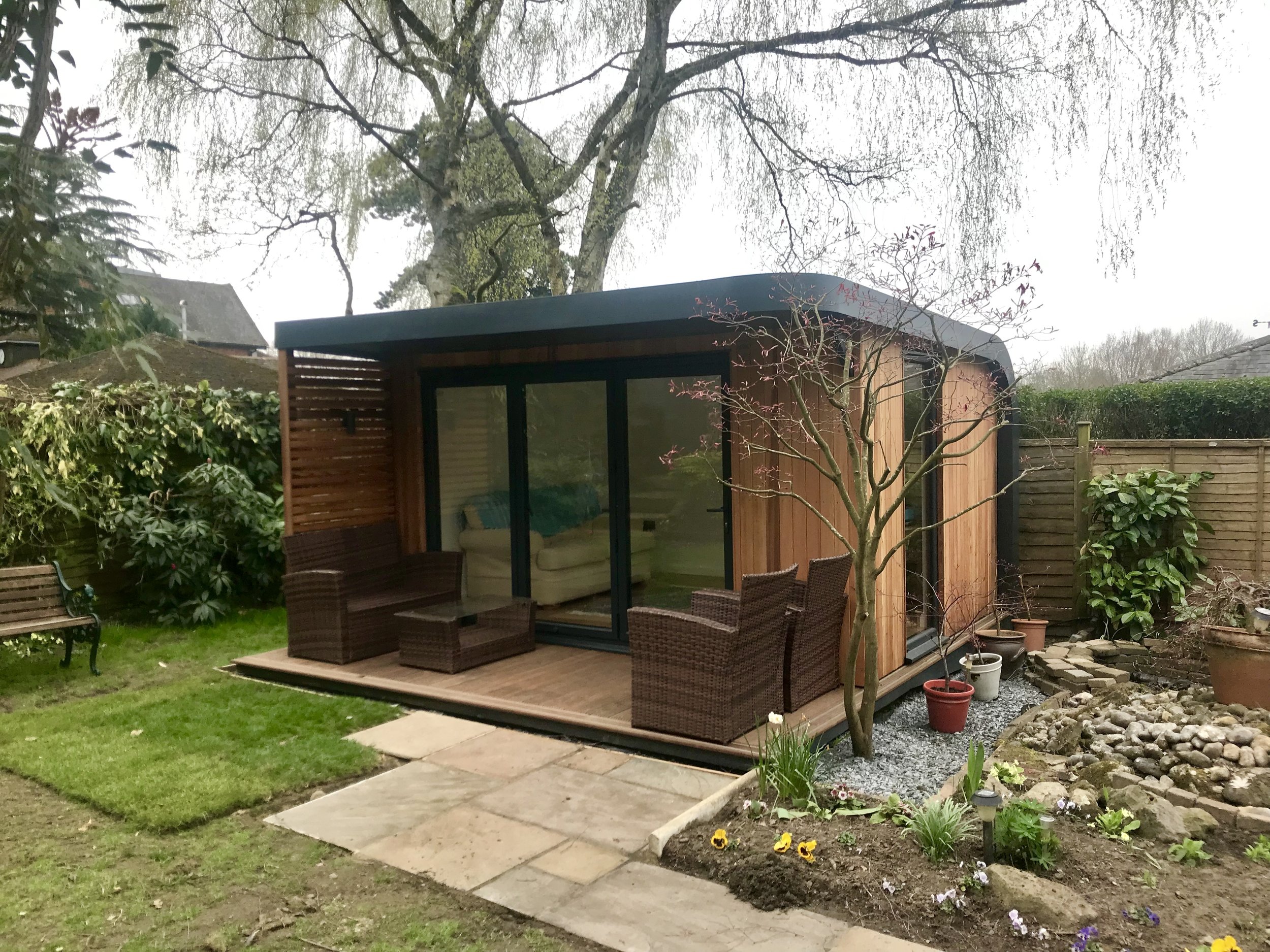 I'm sitting in our beautiful garden room working. The sun is shining. It's such a calm and lovely space we couldn't be happier with it. Just wanted to say thank you again!


Janine
"We needed some extra office space, so Garry at Curve Garden Rooms created the perfect sanctuary. He was open to anything we suggested and produced a great working environment, full of light and beautifully finished. I love the fact that the room makes me feel ready to work while being close to home. It's calm, peaceful and warm."
Phil and Debs
'
"We've just had a 3m x 3m Curved room installed by Garry Martin's Curve Garden Rooms. A professional and hassle free installation of a beautifully designed cedar shed with a stunning sedum roof and double glazed French doors. The underfloor heating and wall/roof insulation has made this garden room useable all year round. I'd recommend this company to anyone who wants a bespoke office/garden room."
Ian Parker 2017
"I believe that your immediate environment, for any purpose (be it work, play, relaxation or entertaining), should be designed with style, character and exclusivity but completed for a reasonable price. It fundamentally affects the way your enjoy it. This is the general ethos behind Curve garden rooms. A bespoke approach to each project, never just out of the box, makes things personal and ensures complete satisfaction for every client. I design each garden room with the client in mind, I build each garden room with the client in mind and I finish each garden room with the client in mind. If you want a real room in your garden that you will love for years to come, at the same time enhancing and adding value to your property, give me a call. I promise you won't regret it. "
Garry Martin - Director of Curve Garden Rooms Ltd